the little bakery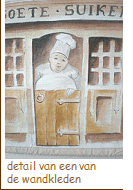 Wouldn't you just love to make your own clay if you were a 5-8 year old boy or girl? How cool would it be to make your own 'play dough'?
And quite literally so, because it is in fact a special kind of bread dough the children will be making in our 'little bakery'! Not to make bread, or anything edible for that matter, but to create beautiful works of art!
So that means some serious stirring and kneading, using flower and water and salt in lots and lots of little jars and cute kitchen utensils. And when the dough is done: bring on the many many cookie shapes and other stuff to get creative to the max!
All of this while playing an extremely important role in very a funny rhymed story about King Bagel, a silly monarch who eats nothing but bread all day long, however unhealthy this may be... King Bagel, you see, wants to spruce up his castle with bread-made art in an attempt to impress his beloved Princes Bunn of Butter-sweet who plans to visit him shortly… Will he succeed? Who knows….. our little bakers will get the inside story :-)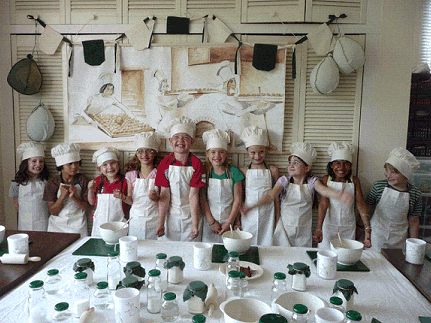 This party can only be celebrated at our lovely party studio, decorated for the occasion with our very special fabric garlands and fabric (!) balloons and our beautiful hand painted hanging murals.
PS: Our bread dough is extremely salty, which makes the artwork long-lasting and basically non-perishable once dried. It also doesn't need any time in the oven; it can simply 'dry on air'. This means that there's no actual baking in our little bakery ;-)
If you want to know more about this party
check out this photo album!
:-)

target group | time frame
This party is developed for children celebrating their 5th-8th birthday.
The suggested number of children to attend (including the birthday girl or boy) is 8, but it is possible to increase the number of children to a maximum of 12.
The entire party takes 2,5 hours

ingredients
beforehand:
a "voorpretpagina", i.e. a website with funny "bakery-games" for all the invited children to enjoy while looking forward to the upcoming party! (see here)
printable invitations to go with this particular party

during the party:

2 experienced party planners attending (Elles and Margot)
a clever script with a funny poem about King Bagel
cute baker's aprons and hats for all
all the ingredients to make dough
lots of materials to make art works from dough
creative freedom with clear boundaries
and of course several art works to take home!

catering:

a lovely chocolate cake with the name of the birthday boy/girl on top
drinks all around | funny theme cups and a very silly drink :)
3-5 special treats throughout the party

location | our studio
This party can only be celebrated at our studio, and since our studio is not available for children's activities during the weekend, this party can only be booked on Wednesdays and Fridays.

costs
A) do-it-yourself | not applicable
B) party at yours | not applicable
C) party at ours | two party planners attending | catering included:
- 8 children | 195 euro
- extra children (max 12) | 10 euro per additional child
party after 17:00 | evening surcharge
In principal, our children's parties end at 17:00 at the latest. At some occasions we may be able to organize a party ending at a later hour but in those cases, however, a 15% evening surcharge for the entire party is applied. (195 + 15% = 224,25)
late Friday night party | golden tip
If the birthday girl or boy attends school until 15:00 hours on Fridays, you may want to consider throwing a late party on a Friday, starting at 15:30 hours and including a 30 minute high tea (posing as 'dinner') at the end. All in all the party would than last until 18:30 hours, but on arrival at home the children have had their supper and, after all, it's the weekend, so perhaps their parents won't mind, just this once :) This scenario is rapidly gaining momentum, and all the children seem to love it, but off course it does come at a price. The total cost of this late Friday night party would be:
195 (party with 8 children) + 15% (evening surcharge) + 75 (high tea) = 299,25 euro.
party during the weekend | weekend surcharge
This particular party can not be celebrated on Saturdays and Sundays, because our studio is not available for children's activities during the weekend, and we cannot possibly move all our appliances to another location, sorry!
btw
All our prices include VAT.

optional extra's:
online photo album afterwards: 20 euro | example
homemade 'goody-bag-balloons': 2,50 a piece | example
'poffertjes' lunch for 8 children: 32 euro | extra guests (mam and dad?): 4 euro pp
high tea for 8 children: 75 euro | photograph of our high tea table

furthermore . . .
our studio
Our studio/atelier is located at the second floor and there is no lift. The address: Laan van Meerdervoort 710, Den Haag | tel: 070-364.36.25. One of the inhabitants of the house is a cat, but we can keep her out of the party room if you want; should any of your guests be allergic for (or frightened of) cats, please let us know so we can take precautions.
public transport | parking
Tram line 3, Randstadrail, stops practically in front of our premises - you need to get out at "Zonnebloemstraat". If you arrive by car there are no parking fees until 17:00 hours. After 17:00 hours you will have to pay 1,70 per hour, using your bank card (no coins unfortunately).
food allergies
Our catering is not necessarily suited for children with food allergies, but we are certainly prepared to take any allergy into account and change our catering accordingly, provided you let us know in due time.